Written by tanja-sdb on March 28, 2014
The Scots Guards
Research Story
28 March 1642 saw the formation of the Scots Guards regiment, when King Charles I commissioned the Marquess of Argyll, Chief of Clan Campbell, to raise a regiment of 1,500 men in Scotland for service in Ireland. The regiment was to become the King's so-called 'Lyfe Guard of Foot', which  eventually became the Scots Guards in 1877 under Queen Victoria. Initially the regiment was involved in a number of internal disputes in the British Isles, and then also in Europe.
When the American Revolutionary War broke out between Britain and the Thirteen Colonies, Scots Guards made their first venture into the New World as part of a composite battalion of Foot Guards.This took part in a number of battles, including, for instance, the Battle of Germantown (Pennsylvania) in early October 1777. A good four years later, the Guards played an important role in the Battle of Guilford Courthouse (North Carolina). Commandeered by General Cornwallis, his 1,900-men army defeated their American opponents, whose number stood at over 4,000.  Victory was bittersweet, however, as the Foot Guards saw many of their men killed or wounded in battle.
Involvement in conflicts in distant lands continued throughout the nineteenth century. During the American Civil War, for example, the  2nd Battalion was sent to New Brunswick in Canada for a period of time to provide reinforcement for the local garrison. Towards the end of the century, expeditions to Egypt followed, and a 25,000 strong British force engaged in the Battle of Tel el-Kebir, which saw a British victory. The Scots Guards gained the battle honours Tel-el-Kebir and Egypt 1882 for their role. Africa remained a destination for the Scots Guards, expeditions taking place to the Sudan, and battalions engaged in the South African War at the turn of the century. Of particular note is the Scots Guards' role in the major battles of Magersfontein and Paardeberg.
The two World Wars saw the Guards engaged on European battlefields, but the 2nd battalion was soon deployed overseas after the Second World War had come to an end and British imperial rule was being challenged in what was then Malaya. A state of emergency had been declared in the country in June 1948 after increased violence against both British and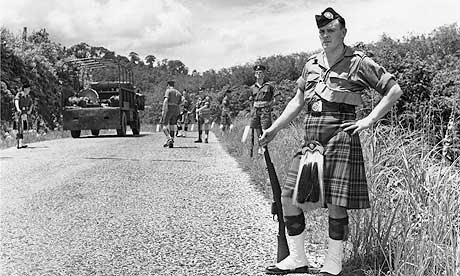 Asian citizens as they were attacked by the Malayan Races Liberation Army, which was against the creation of the Federation of Malaya. The Scots Guards fulfilled diverse roles, ranging from guarding duties to jungle patrols – click here for an image of a jungle patrol published in an Australian newspaper in 1950. Their service in Malaya was, however, not a smooth one and much still needs to be done to appropriately process and reflect this part of the Scots Guards' history (see for instance this article in The Scotsman).
Calendar
August 2021
M
T
W
T
F
S
S
1
2
3
4
5
6
7
8
9
10
11
12
13
14
15
16
17
18
19
20
21
22
23
24
25
26
27
28
29
30
31